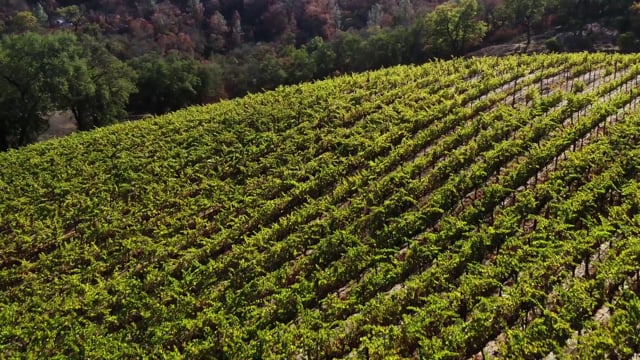 Cheers to fall!
Hand-crafted limited production Napa Valley wines made exclusively for the Delta Zeta Sisterhood. 20% of proceeds are given back to Delta Zeta Sorority.
Countdown to Fall Release!
We are excited to showcase the Fall 2022 Release in the coming days! Don't miss out joining the Killarney Club and finding the club level that best fits your budget & lifestyle which supports our great sorority!
00
00
00
00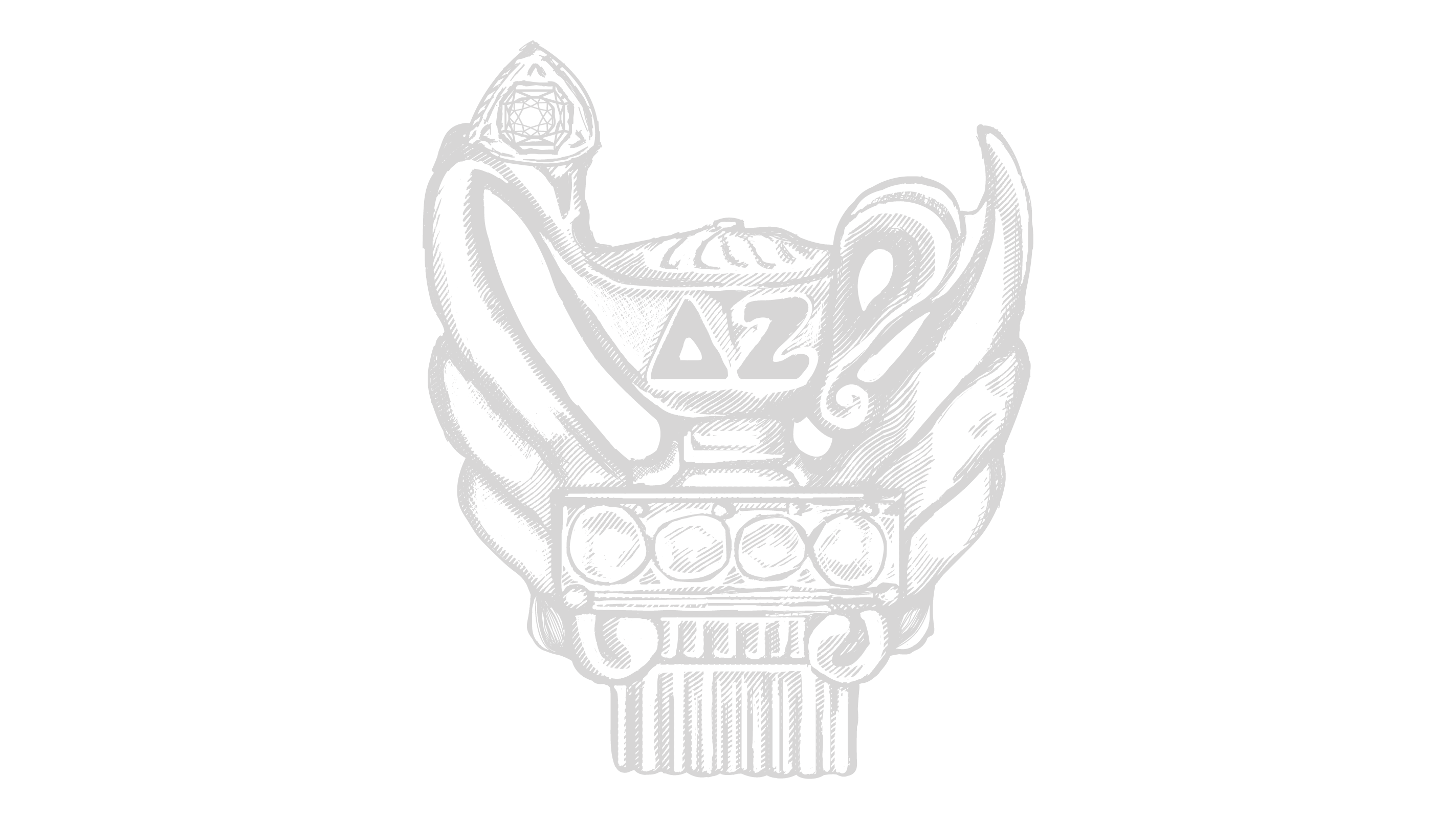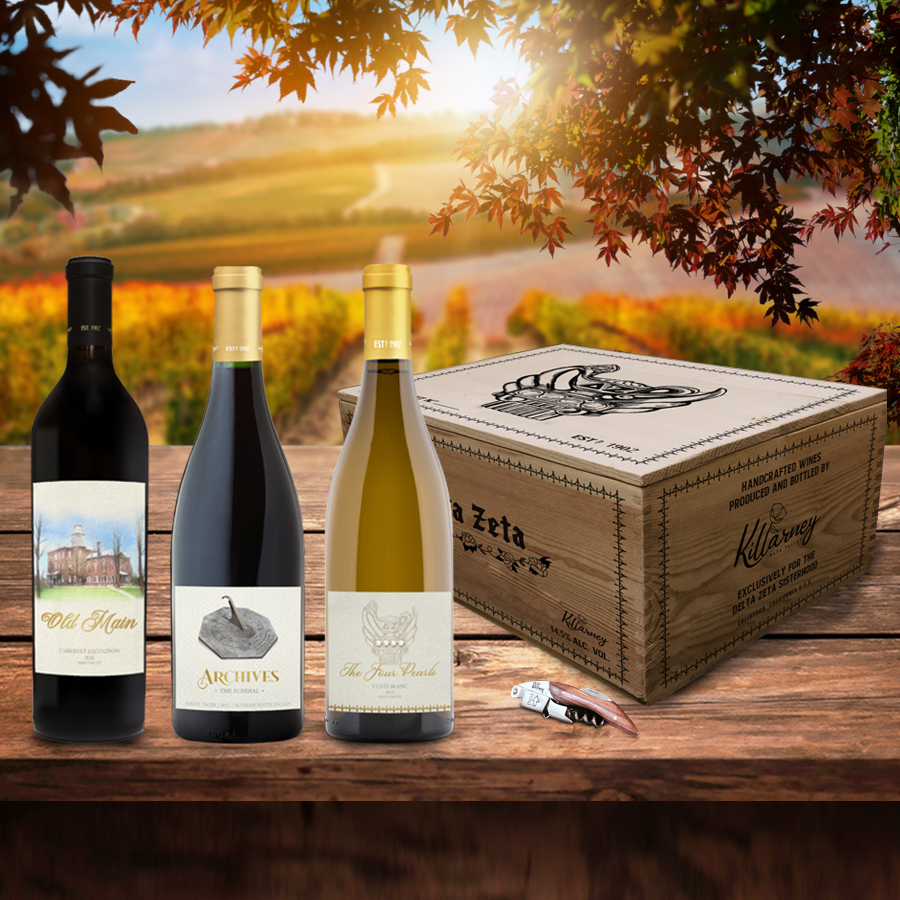 As a member of the Killarney Wine Club, you have a unique opportunity to celebrate Delta Zeta's history and ensure its future!
Since 1902 the bonds of our sisterhood have only grown stronger and our alumnae now have the unique opportunity to support important sorority programing by becoming a member of the Killarney club. Members who join this club will receive  two shipments (three bottles or six bottles each) per year of hand-crafted, limited production Napa Valley wines made exclusively for members of Delta Zeta.
We hope your Delta Zeta experience continues to be enriched by friendships and love that is ever steadfast.
Fall 2022
Wines
Introducing the Fall 2022 varietals and labels!

Old Main
2020 Cabernet Sauvignon – Napa Valley

In an old recitation room in the east end of Old Main on the Miami University campus, a group of women students voiced, "Why not a sorority for us?" It could have been on any campus, in any building, at any time. However, they were spoken in 1902 by our Founders, who felt the need for strong ties of friendship in their new world, away from the safety of home. While Old Main does not exist on today's Miami campus, the friendship and sisterhood that began as a spark between those walls lives on within each of our sisters.

We introduce you to our flagship Napa Valley Cabernet Sauvignon, Old Main. This is a premium and classic representation of the appellation's preeminent varietal. Notes of black cherry, blackberry and plum are complemented by hints of toasted oak, dried currant and baking spice. Fine-grained tannins and ample brightness on the palate give way to a polished mouthfeel and exceptionally long finish.
$95 / Bottle

Archives
2021 Pinot Noir – Russian River Valley

Over the years, in honor of our founding, many gifts have been presented to the University to celebrate anniversaries. In 1927, Delta Zeta presented the Sun Dial to Miami University, commemorating the Sorority's Silver Anniversary. As we near Delta Zeta's 125th Anniversary and prepare to celebrate, as countless before us have come and gone, we remember that our sisterhood marches on before this dial of time.

We introduce you to our Archives Pinot Noir. From the Russian River Valley AVA of Sonoma County, this beautiful wine is influenced mostly by the fog of the AVA and is very aromatic, with a velvet mouthfeel, and has a fruit character that is ripe and intense.
$65 / Bottle

The Four Pearls
2021 Cuvée Blanc – Napa Valley

The four pearls in our badge represent the strength and virtues of Delta Zeta. Set at the top of the Ionic Column, a symbol of beauty and strength itself, the pearls' luster provide inspiration to all who wear the badge. Like the pearl, tumbled and smoothed in the rough waters of the ocean, a Delta Zeta has inner fortitude despite life's challenges and a lifelong sisterhood dedicated to supporting her in all endeavors.

We introduce you The Four Pearls. This elegant white blend is alluring and complex, with a sensuous offering of tropical fruits, white flowers and subtle spice. The nose is like a bouquet of flowers and jumps from the glass with ripe lemon, white peach and orange blossom followed by notes of toast and white pepper. On the tongue, lemon bursts forward with pineapple and other tropical fruit, with undertones of vanilla. The finish is bright and zingy and mellows with vanilla and subtle spices in its length.
$44 / Bottle
Club Format & Cost
In order to receive the twice a year shipments and be eligible to purchase additional bottles, you must be a member of the Killarney Club. A $50 one-time, non-refundable deposit will be processed to secure your first shipment only. This deposit will be deducted from your first club shipment cost. Wines are released in two three-bottle or six-bottle shipments each year based on the club level you select. The cost will range based on your selections. The cost of a bottle ranges from $35 to $75 + tax & shipping.
Each club shipment for three-bottle members will arrive in a cardboard shipper that can be upgraded to a fire-branded Delta Zeta wooden crate for a discounted price of $25 ($50 Value). All club shipments for six-bottle members will arrive in a wooden crate at no additional cost ($99 Value). Except for your one-time, non-refundable $50 deposit, your card will not be charged until the Release date. Again, the $50 deposit will be deducted from your first shipment cost.
Each club shipment can also include a special welcome package and gift at no additional cost ($30 Value). Depending on the club level you choose, you can customize your wine selections! New, library and special edition wines will be offered for your selection. There is no long-term commitment, and you may cancel at any time.
Please review the Killarney Club member levels and benefits on comparison matrix presented on the Club page. Enjoy your wine, and remember, when you share a glass, gift a bottle or visit the Fairwinds tasting room in Napa Valley together, you are supporting Delta Zeta!

20% of your purchases are given back to Delta Zeta
With every shipment, members of the Killarney Club celebrate Delta Zeta, and support the organization's areas of greatest need. We are committed to being a global women's organization whose shared values truly inspire action and impact lives through our strategic priorities and initiatives. Apply to join the Killarney Club and support Delta Zeta while enjoying world-class wines from Napa Valley.
Join today and support Delta Zeta.
Hear about
Killarney
Your membership in the Killarney Club supports important programming that furthers Delta Zeta's mission to be a lifelong, values-based membership experience for all women.
Cindy Menges (Alpha – Miami University)
Executive Director – Delta Zeta Sorority
Our Founders were trailblazers, working to create a better future for those that followed. With each bottle of Killarney Napa Valley, you are supporting critical programming and leadership development opportunities for our sisters and ensuring that our flame continues to burn brightly.
Christy Phillips-Brown (Theta Iota – Western Carolina University)
National President – Delta Zeta Sorority
I am honored to make these wines for the Delta Zeta sisterhood and cannot wait for you to share them with your sisters, family and friends!
Brandon Chaney (Sigma Chi & FODZ)
Proprietor & CEO Fairwinds Estate Winery & Killarney Napa Valley
Experience the benefits and lifestyle!
Membership financially supports Delta Zeta.
Club membership options to best fit your budget and lifestyle.
Two shipments of three or six bottles per year (minimum to retain Killarney Club seniority).
Wine received in a handmade vintage Delta Zeta fire-branded wooden crate.
Exclusive access to limited releases and library wines.
Discounted access to online store to replenish your cellar and gift wines to friends & family.
Free wine tasting experiences at Fairwinds in Napa Valley.
Special access to Delta Zeta only events and parties.
Your name honored on the Delta Zeta Killarney Club Charter Member Memorial at the winery.
Membership financially supports Delta Zeta Sorority.
Fairwinds Estate wines offered at 10% off.